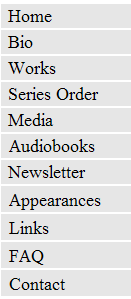 ---
ROBERT CRAIS: NEWSLETTER

The newsletter is how we send late-breaking news to RC's fans and readers. Sign up to receive advance excerpts of his upcoming work, and all the latest changes and additions to his tour schedule, including radio and TV appearances. You'll get the 411 long before it's posted on the website! Don't miss RC if he appears in your city!

After you sign up you will receive a confirmation email. You must click on the link within that e-mail to confirm your interest in our newsletter or you will not receive our mailings.

Note: This list is private and will not be shared.
---